Like most months, it has been a busy one in the Virtual Reality world.
Facebook acquired Oculus VR, Sony revealed Project Morpheus, Jaunt VR announced a $6.8 million investment to support the development of 'Cinematic VR' tools, and there were rumours that a David Attenborough fronted 360 degree production was in the pipeline (although that was later dismissed).
360 degree content was the focus for our most recent Virtual Reality Meetup – a regular forum for developers, creatives and enthusiasts to network, share demos and try the latest VR technology.  If you would like to join the 400+ members click here.
It has been ten years since Inition created our first bespoke 360 degree surround experience designed to be viewed in a head-mounted display.  A parabolic mirror was positioned on a boat were the cox typically sits, and this was used to film two races at the Henley Royal Regatta and Women's Regatta. Since then, visitors have enjoyed the 'In the Cox's Seat' experience, permanently installed at the River and Rowing Museum in Henley-on-Thames.
"I think this medium opens up a very unique lens on a layer of reality you can't really observe with film or real life.  This takes life and ENCAPSULATES it in a way that allows you to SAVOIR SUBTLETIES in a way that has never been possible before." Felix & paul
Inition Creative Director Andy Millns opened the evening with a summary of the recent trip to Austin, Texas where we were part of the Hackney House exhibit – a fringe event of South by Southwest. During that time, we gave hundreds of demos of the Nissan wingsuit experience and the Topshop 360 live catwalk experience (our most recent 360 installation), plus we had the chance to try the much anticipated Oculus Crystal Cove prototype. "The performance of the display on the Crystal Cove model was absolutely incredible." enthused Andy, " You don't get any of that blurriness as you turn your head and it makes a huge difference to the overall experience."
Atlantic Productions, kicked off the evening.  Well known for big budget 3D productions made for IMAX and Sky 3D, Digital Manager Philip Harper presented test footage shot in Borneo using a 360 Heros rig.
The company do not currently have concrete plans to produce a full documentary using 360 degree technology, but the proof-of-concept was fascinating. As Attenborough pointed to the top of a cave, you felt instantly compelled to look up.  It hit me how powerful nature documentaries will be in this format, especially in the style of a 'tour guide'.
Henry Stuart from Visualise spoke about some of the company's high profile projects, a far cry from the early days of producing virtual tours for estate agents and hotels. "I don't think I could have ever imagined we would have come to where we are now so it's a really exciting space to be in." said Stuart, who found himself working in this space after working closely with Getty Images to capture all their 360 content, designed to be viewed online.
Visualise is now investigating how super-high resolution images can be explored and navigated in new ways, using an Oculus Rift and Kinect. For example, allowing a user to spread their arms to zoom into closer detail of a gigapixel image.
World's first 360 degree, interactive, panoramic, wrap-around, selfie, on a Monday evening, under a moonlit sky, in Austin Texas, at South-by-Southwest festival, outside Hackney House, with Jarvis! #SXSW #HHA14 - Spherical Image - RICOH THETA
Disco 360?  Jarvis Cocker captured at South by Southwest by the impressive RICOH THETA camera
Meetup members took the opportunity to try a Visualise 360 video experience developed for Mercedes-Benz Formula One experience which can be downloaded for iPad here, as well as an interactive 360 degree map of the London Olympic Stadium and a 360 base jumping video.
We were really excited about filmmakers and visual artists Félix Lajeunesse and Paul Raphael flying in from Montreal to present ONCE – a company exploring how VR, in particular 3D 360 video, can enhance storytelling.
Not strangers to stereoscopic production, they have developed their own capture technology to produce natural looking stereoscopic 360 degree content. Their first sequence – "Strangers – A Moment with Patrick Watson," was wonderfully simple, as you take a voyeuristic position in a piano artist's home and watch an incredibly intimate personal performance in Patrick's apartment.
Watching on a HD version of the Oculus Rift, and being isolated from the ambient house music and developer chatter of the Demo Studio thanks to noise cancellation headphones, really highlighted how 3D 360 content can completely absorb one into a different world.
"It's a great medium to just experience space and time the presence of human beings." said Paul. "We intentionally created a simple experience with Patrick Wilson where it is just about time, place and human presence. I think this medium opens up a very unique lens on a layer of reality you can't really observe with film or real life. This takes life and encapsulates it in a way that allows you to savoir subtleties in a way that has never been possible before."
 "The performance of the display on the Crystal Cove model was absolutely incredible." enthused Andy, " You don't get any of that blurriness as you turn your head and it makes a huge difference to the overall experience." ANDY MILLNS
Unfortunately the demo is not available for public download but it won't be long before we see the first public productions from these guys.
Finally, we arranged a live Skype chat with Scott Brooke, VP of Content from Jaunt VR. Having received a modest investment from BSkyB last year, the company recently announced a $6.8 million investment to further develop their Cinematic Reality Platform.
Brooke explained the basis of their technology:
"In terms of where we are going, the [ Jaunt VR ] camera continues to evolve. We are doing something a little different to traditional stereo capture which you have cameras in parallel or ninety degrees. We are not doing that to capture our 3D field. We are using a form of computational photography to mathematically create 3D depth."
Jaunt VR lists very high profile names as their Board of Directors such as Netflix, Google and IMAX. It is the company's goal in enable 360 production to be part of existing production pipelines embedded with industry standard software such as Adobe After Effects and Avid Pro Tools.
For more detail about how their 3D 360 video capture will work, you can read a great Road to VR article here.
According to Brooke, horror and sci-fi could be revolutionised with their tools:
"We had the good fortune to go onto a set when they were shooting a Kickstarter horror movie called Harbinger Down.  We put one of our cameras in there and it was incredibly effective. You are in the middle of a hold in a ship. It's dark and there are all sorts of sounds going on around you. It gives you a sense of isolation and claustrophobia which is perfect for a horror movie."
The first Jaunt VR tools are set to be announced "in a big way" this summer.
360 is a very interesting new medium. Over the summer, a number of sub-£500 360 degree still and video capture devices will be launched so consumers will be able to start producing their own immersive VR video content.
Imagine the possibilities as VR HMDs become more popular. Film distribution companies to offer 360 film clips to promote a new release or offer 360 degree behind-the-scenes extras on a Blu-ray.
Property marketing companies will be able to offer virtual tours of real apartments and nightclub promoters will have an opportunity to give their customers a chance to relive an evening that might have been too hazy to remember.
There are still several technical challenges to be solved.  Live 360 streaming is still in development (although Bublcam claim their forthcoming camera will offer live 360 streaming out of the box when it is launched in June).  Easy production of stereoscopic 360 video is also not as simple as picking up and shooting with a stereoscopic camera.
But once these challenges are resolved, we can look forward to a new revolution in cinematic entertainment.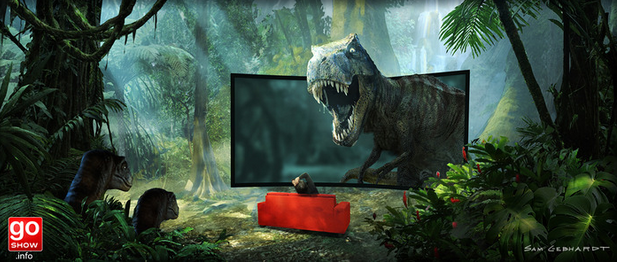 Don't forget to join our London VR Meetup group.  We have an epic virtual reality event planned for the summer so be sure to sign up for future announcements!