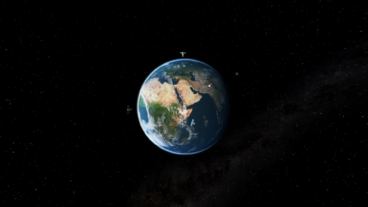 We used computer generated imagery to create a 360°, 3D, virtual reality (VR) film that depicts three case studies showcasing how DigitalGlobe use their satellites to assist the United Nations to improve the world. The VR experience explores different aspects of how Digital Globe are changing the way we see our planet and enabling us to make changes in a way we have never been able to before.
Digital Globe are world leaders in the supply of high-resolution earth imagery. They wanted to show how the UN is using their geospatial services to help speed up mapping for disaster relief, monitoring of illegal activities in remote areas, and accurately gathering land-use data for better planning. They came to Inition to help them tell their complex stories in a compelling and immersive way.
Viewers of the VR experience are taken from the edge of space through the atmosphere into the relevant country and placed in the perfect vantage point to feel like they are there, witnessing the impact that the up-to-date, detailed imagery makes.
Using a combination of existing 2D satellite imagery re-positioned in 3D space, and CGI rendering to animate the transitions, Inition created a number of stories explaining the potential of geospatial capabilities in a highly engaging way.
These VR experiences will be shown at events and meetings globally to inspire and educate.